Smart Tube Pro

NEW


Smart Tube Professional is build from the ground up to be a full blown tube site content management solution. read more...

SmartSpots
SmartSpots is a fast and simple advertising script. read more...

Movie2FLV
Movie2FLV is a tool for converting videos to format playable by Flash players. This tool is made to work with our TGP and TUBE scripts, especially with Smart Tube & Text. read more...

Smart Tube & Text
STXT is made from the ground up running a site on true autopilot. With STXT you are able to run a MGP/TGP/TUBE without having to update your site ever!, once your site has been setup it will keep feeding itself with new content taken from the "Smart Thumbs gallery database". Thumbs will be created automatically and galleries will be put into the right categories based on their descriptions. The "Smart Thumbs gallery database" currently holds over 450.000 and over 400 sponsors that keep adding fresh new galleries to the database each day. Between 1000 and 2000 new galleries are added each day, more than enough to keep your site's content fresh. With STXT you can have an unlimited amount of categories and virtually unlimited amount of galleries which allows for sites with a massive load of content. read more...




TUBE site using Smart Tube & Text!





Smart Thumbs

Smart Thumbs is a complete tgp script (thumbnail gallery post management script), it makes your work easier and faster by automating gallery preview and thumbnail cropping. Productivity based thumbnail rotation makes your productivity higher and brings fast traffic growth. Your site is automatically updated with new images every few minutes. Some of our consumers were not able to grow their sites beyond 20k, started with us from 10k traffic and boosted to 90 or 150k traffic in few weeks without feeding traffic! read more...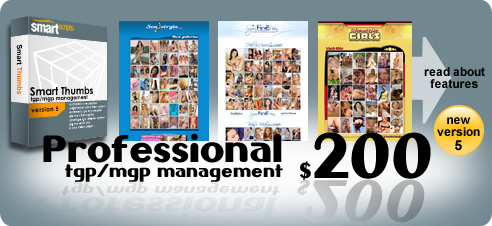 » Smart Thumbs is running on more then 8.000 sites
» Sites powered by Smart thumbs generate more then 70.000.000 clicks each day!!!
» Our script is running on tgp sites averaging 500.000 - 1.000.000 hits daily

Smart Thumbs Free edition
After popular demand we are releasing Smart thumbs skimming version! You can now download and install unlimited copies of our hugely popular script for FREE! The FREE version of Smart Thumbs has all the features that the commercial version has, nothing is taken out or crippled! With this release we hope to give many people the opportunity to start growing their own traffic empire at low initial cost. The script will skim 1.5% of your traffic per install, if you want to remove the skim you can simply buy a key to migrate your copies to the commercial non skimming version. Small link back to our site is required.